IIllicit Encounters Review: What You Should Know About It?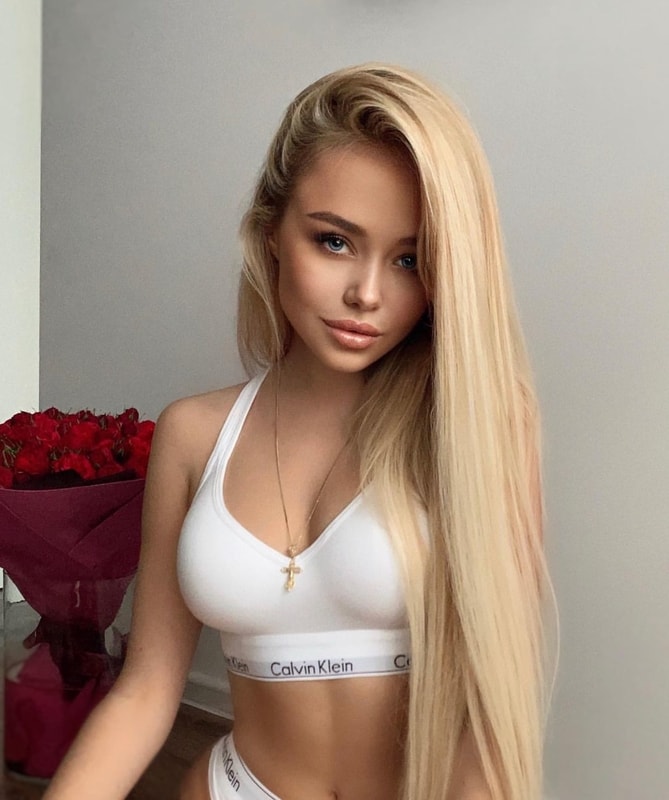 Safety

Interface

Prices

Audience
Summary
Statistics say that one in ten of the British spouses used the Illicit Encounters website in search of an extramarital affair. Financial and real estate problems have a significant impact on married people. A vast number of people cannot get divorced due to the inability to resolve property issues. Also, some people who registered on this website just want to cheat on their partner. Many spouses even believe that their families will become stronger if they allow their partners to have an affair. 
IllicitEncounters.com was launched in 2003 by entrepreneur Stephen Lines. He came up with an idea to create such an online resource after talking with one married woman who desperately tried to improve her sexual life. This niche site is a dating platform that was conceived for married or engaged people searching for personal contacts outside of their marriage. This dating site claims that having an affair often does not interfere with good family relationships.
Is Illicit Encounters a Discreet Dating Services for Married People?
Pros: 
One of the most popular British dating sites for married people;

Mostly, site members are from the UK;

All features are free for female users;

The site is discreet, safe, and secure;

An opportunity to make exciting acquaintances.

Well-developed mobile app with several levels of security.
Cons:
The site services are relatively expensive;

The site design looks a bit outdated;

Singles are not allowed to register;

The site is only available in the UK and Ireland;

Profiles do not have enough details; 

The membership cannot be renewed automatically.
How to Use IIllicit Encounters?
The Illicit Encounters website provides an opportunity for adults to satisfy their desires and avoid complications. The site's goal is to bring married, divorced, separated, or widowed people together in a secure way. Illicit Encounters features a simple design and easy-to-use functions. The main menu displays various tools for dating and communicating with other users. 
You can find a chart of your recent activity in the top right corner. Below this field, you can see a quick search section. Thanks to this, users can easily search and find other participants for pleasant communication and meeting in person. Below, you can see messages sent to you and detect those who viewed your profile. After logging in, you can also join the forum.
The Process of Registration on IIllicit Encounters
The signing-in process takes no more than ten minutes. Confirmation by email is not required. Also, you can upload your profile photo later. Single users and under-age persons cannot join Illicit Encounters. The site is available for residents of the UK and Ireland only. Gays and lesbians who have partners can become site members too. The registration passes in three steps. First, you need to indicate your gender, the gender of the person you are looking for, and your country of residence.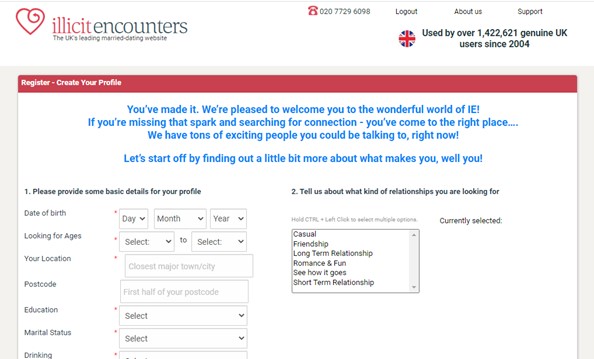 Second, the site will ask you to provide additional information such as username, password, email address, date of birth, and marital status. At this stage, you will also need to agree to the site's terms of use. Third, start creating your profile. You have to include the necessary information about your appearance, occupation, and hobbies. Optionally, you can write a short text about the type of relationships you are looking for and who your ideal partner is.
Communication Features on IIllicit Encounters
IllicitEncounters.com offers three ways to connect with other users of the website. You can send messages, virtual kisses, and gifts. Virtual kisses are free of charge for all participants, and they are usually sent along with a greeting message. Presenting virtual gifts and sending text messages is available for a fee. You can also view the members who are currently online and add interesting users to your list of favorites.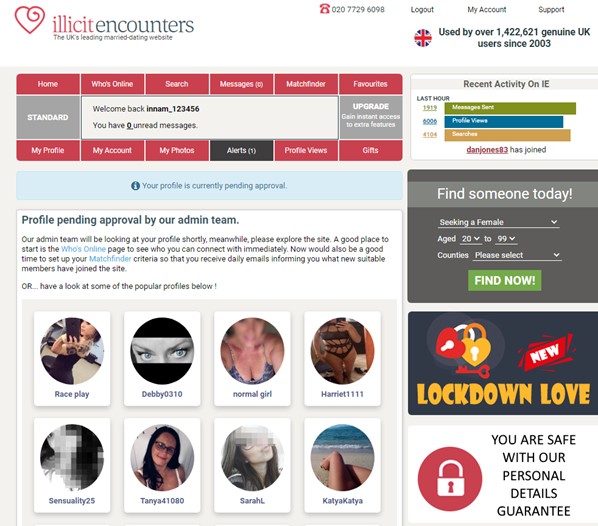 Various useful filters are available for searching. You can search people by username, gender, age, and location. In the Matchfinder section, you can see your matching results, receive gifts, and read recommendations on finding perfect partners. In the same section, you can configure the mode of how the matches will be displayed. The site will send you daily matches based on the criteria you specified. In this way, you can expand your opportunities, save time, and prevent yourself from some hassle associated with online dating.
Who Are IIllicit Encounters Users?
The Illicit Encounters website claims that more than 1.2 million members from the UK and Ireland currently use this online platform. More than 1,000 participants can be found here daily. Mostly, men are from 30 to 55 years old. Females are a bit younger, and they slightly outnumber male users. The site features an increased activity of participants. Most of the site users are looking for short-term acquaintances and casual dating. This online resource is unlikely to be suitable for serious relationships.
Pricing Policy and Payment Options on IIllicit Encounters
Women can use the site features free of charge. Men need to pay for almost all of the functions for establishing contacts and communicating with other users. Illicit Encounters offers two types of membership for men — Gold and Gold Plus. The latter option has an extended set of functions, such as invisible mode, vacation regime, and answering machine.
The Gold package for 4 weeks costs 140 GBP (35 GBP per week);
The Gold Plus package for 4 weeks costs 170 GBP (42.50 GBP per week) and 200 GBP (25 GBP per week) — for 8 weeks. 
That is, if you plan to use the website for a long time, the 8-week Gold Plus package is the preferred option. However, the price rates of Illicit Encounters are above average compared to other similar dating providers. Users can also buy packages of credits to send virtual gifts. 3,000 credits cost 20 GBP and 20,000 — 50 GBP. Options of payment include bank transfers, credit cards, and cheques.
Safety Measures on IIllicit Encounters
The site management pays particular attention to members' safety, realizing how secretive services of this kind are crucial for users. The Terms of Use and Privacy Policy are strictly observed and followed by the site administrators. Members' personal and financial information is not saved and cannot be disclosed to third parties. For additional security, the site suggests creating a separate email account to make communication more discreet.
Financial data, as well as all messages and email addresses, are reliably encrypted. This information cannot be seen in the unlikely event of a security breach. If you notice illegal or suspicious activity, you can report it to the support service. You can also block any user by clicking the Report This Profile button found below the member's profile. If your bank card is charged twice, you need to contact the customer service members.
Bottom Line about IIllicit Encounters
Overall, Illicit Encounters provides secure, reliable, and discreet dating services for married and engaged people. The site team tries to fulfill what it promises and takes measures to minimize the number of fake accounts. Noteworthy is the management commitment to being honest while providing such services and the members' frankness about what they are looking for on the site.
However, some actions of scammers can be detected on any international dating website. Site users are not required to upload profile photos, so it may be challenging to determine whether a particular profile is genuine or not. Nevertheless, you can rarely encounter fraudsters here because of the high costs of the site services. Thus, Illicit Encounters is probably one of the dating websites that are worth your money.
FAQ
What Is IllicitEncounters?
IllicitEncounters is a site designed with lovers of spicy experiences in mind. This site works in a similar way to traditional dating platforms. The only difference is that its members are searching for extramarital relations. Therefore, all its users want to be safe and secure while chatting online and meeting in person.
How Much Does Illicit Encounters Cost?
The site can be used for free. However, if you want to have more communication opportunities with other participants, you are offered two types of membership — Gold and Gold Plus. The prices for the site services start from 25 GBP for one week. The more extended period you choose, the cheaper you pay for one week.
Is Illicit Encounters a Scam?
IllicitEncounters.com is a legitimate online platform that is operated by the company registered in the UK. According to many Illicit Encounters reviews, the site's former and present users are generally satisfied with the services provided.
Is Illicit Encounters Safe?
Illicit Encounters takes the anonymity, privacy, and security of its members seriously. The site offers a password creator, and real names of users are never required. Any new account is approved before it can be used. Bank cards are billed to MC ONLINE TECH INTSERVICES to ensure discretion.
Who Owns Illicit Encounters?
Online Tech Support Ltd operates this website. The address of this company is as follows: 81E Curtain Road, London EC2A 3AG, phone 020 7729 6098, email: [email protected] Adam Scott is the CEO of the company.
What Security Features Does Illicit Encounters Have?
IllicitEncounters guarantees complete protection of users' personal and financial data. The company claims that a complex protocol is used to transfer data. Participants are able to use the site services anonymously to prevent information leakage.
Does Illicit Encounters Have a Mobile App?
Yes, it does. The mobile app is offered for free to all Gold and Gold Plus members of the Illicit Encounters website. It is available for Android, iOS, Blackberry, and Symbian phones.
How Do I Delete My Illicit Encounters Account?
You can cancel your membership and close your Illicit Encounters account by contacting customer support. You cannot use your profile after you have deleted it. You can also temporarily deactivate your account, provided that you have subscribed to the Gold Plus package.
---