Alt.Com Review 2021: Everything You Wanted To Know About Using It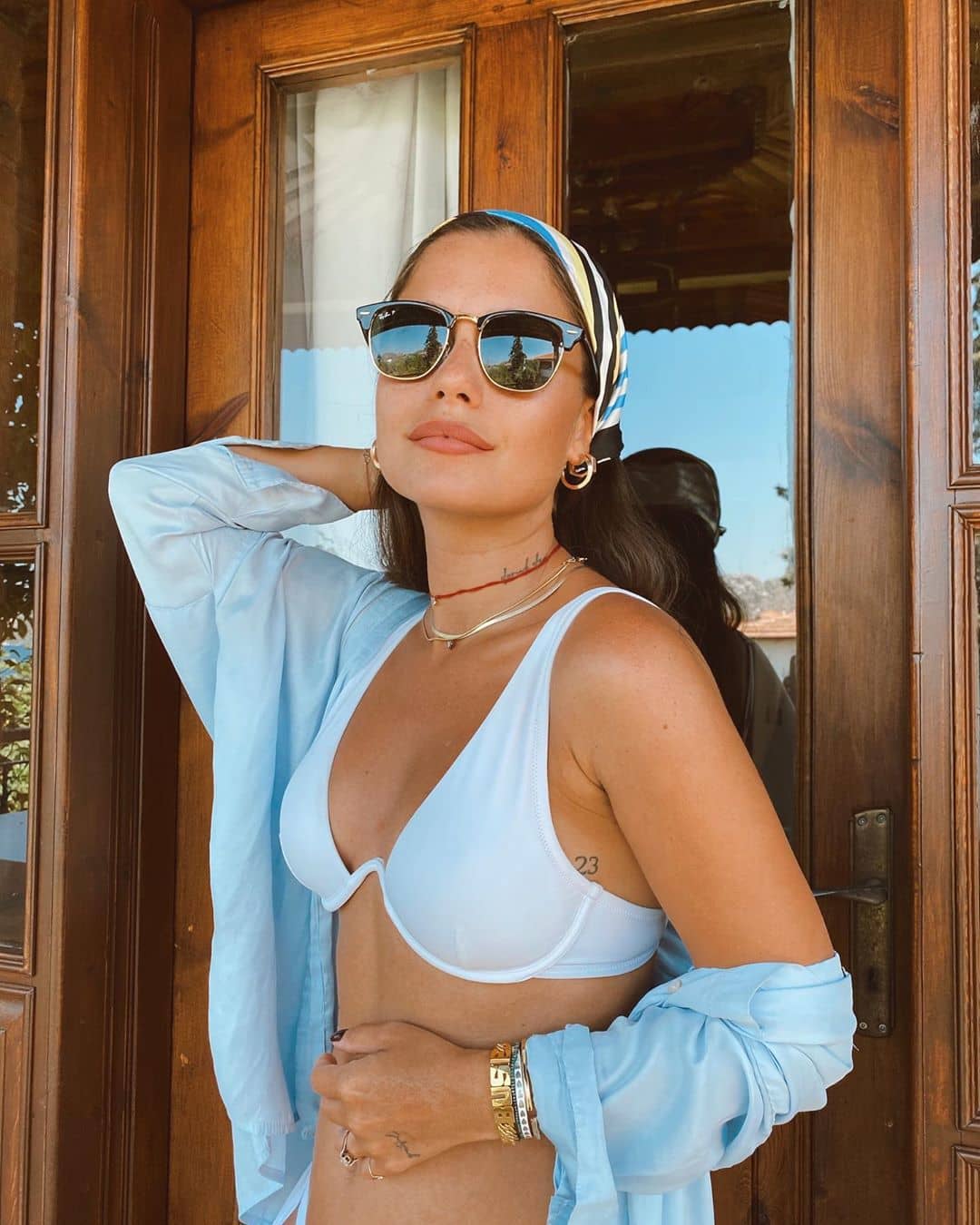 Interface

Audience/Women

Prices

Safety
Summary
Bringing a novelty in the relationship is always a good idea. But what to do if you want to try something spicy and your partner is refusing? In this situation, you have two ways to go. You either give up the idea of having new sex experience or find another person to do that together. If you prefer the second option, you need to read this Alt.com review. 
Alt.com is an online dating platform for those who practice BDSM, erotic role games, and other fetishes or want to try them. The website claims that you can find a partner here for either of these sexual encounters. At first, we thought that this platform is a perfect site to start practicing some new fetishes, but our experience turned out a bit frustrating. You can try a few free features on Alt.com, but still, a lot of them will stay inaccessible until you upgrade your account to paid plan. You can see other benefits and drawbacks below.
Pros:
fast registration process;

user-friendly website;
Cons:
limited features are available to free users;

high prices;

a lot of fake profiles;

24/7 Customer support is for subscribed members only. 
How it works 
The first time we visited the Alt.com website, we thought that something unique and special would happen to us. The homepage is designed in dark colors with pictures of erotic couples and dominating women. At the same time, it looks minimalistic enough to make a potential user intrigued.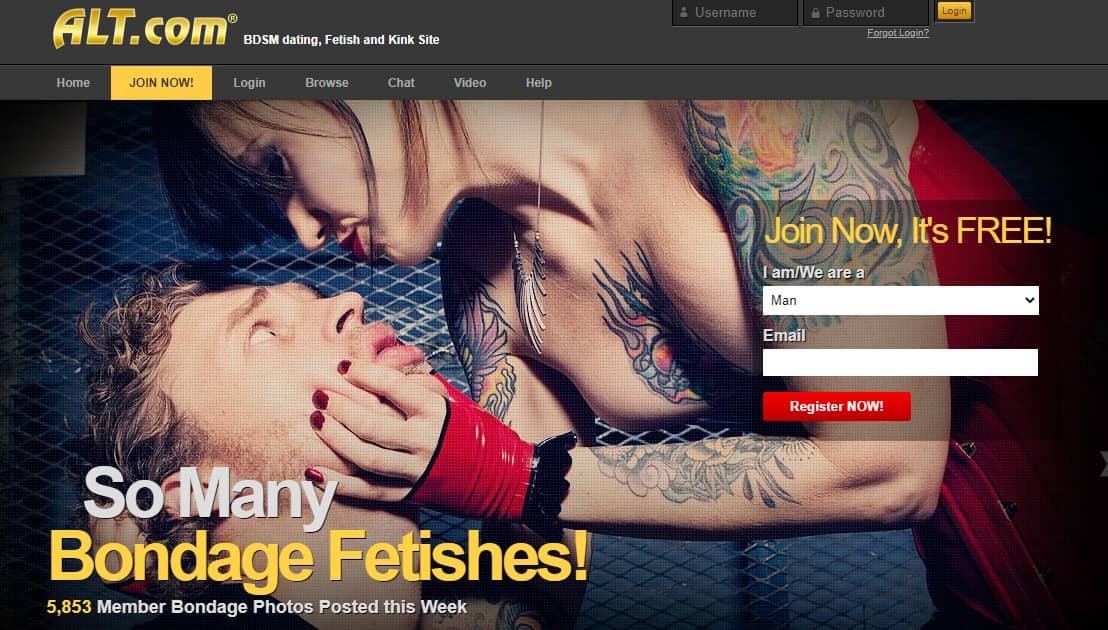 The website is different from its competitors because it allows even guests to see what it's like to be a member. For example, you can click on the 'Browse' tab at the top of the screen and see a few previews of member profiles. It will look like this. 
However, if you click on either of the avatars, you will not see the full profile but would be asked to sign up. This is what we are about to do.
To register, we will use the form on the homepage. It has a few steps to complete. First, we were asked to indicate a type of member (a man, a woman, a couple, a group or a minority). Next, we needed to provide our location and birthdate. 
After that, we needed to enter an email address again, create a username, and choose a password. There is additional information that was needed to complete the profile and search for our matches.
The interesting thing about it is that you can not only choose a straight orientation or those of minority groups but also indicate that you are 'bi-curious', meaning you are eager to try having fun with both sexes. Also, the last drop-down field allows you to indicate whether you are submissive or dominant. If you are not into the BDSM thing, feel free to choose the 'Not Applicable' option. 
The final part of the registration form asks you to tell more about yourself so that your profile would be even more interesting to other users. 
Please note that the introduction is a mandatory field. The information you will input here will appear on your profile page preview. 
Overall, we can say that the process of signup is easy and fast on Alt.com. It takes about 4 minutes to complete this questionnaire. The only step to finish the registration is to open a confirmation link in the email that Alt.com sent to you. Once you do that, you will be redirected to your profile page. However, the first thing that will appear will be a pricing page asking you to purchase a membership immediately. 
If you click on the homepage of your profile, you will see the next control panel. At the top, there are a few tabs that allow you to open messages (if you are a prepaid member), edit and view your profile (by clicking on the 'My Stuff' tab), open the search engine, etc. You can also update your profile from the dashboard on the left. At the center, there will be a few proposed profiles of recent or online users. This list will change every time you switch between the buttons above it.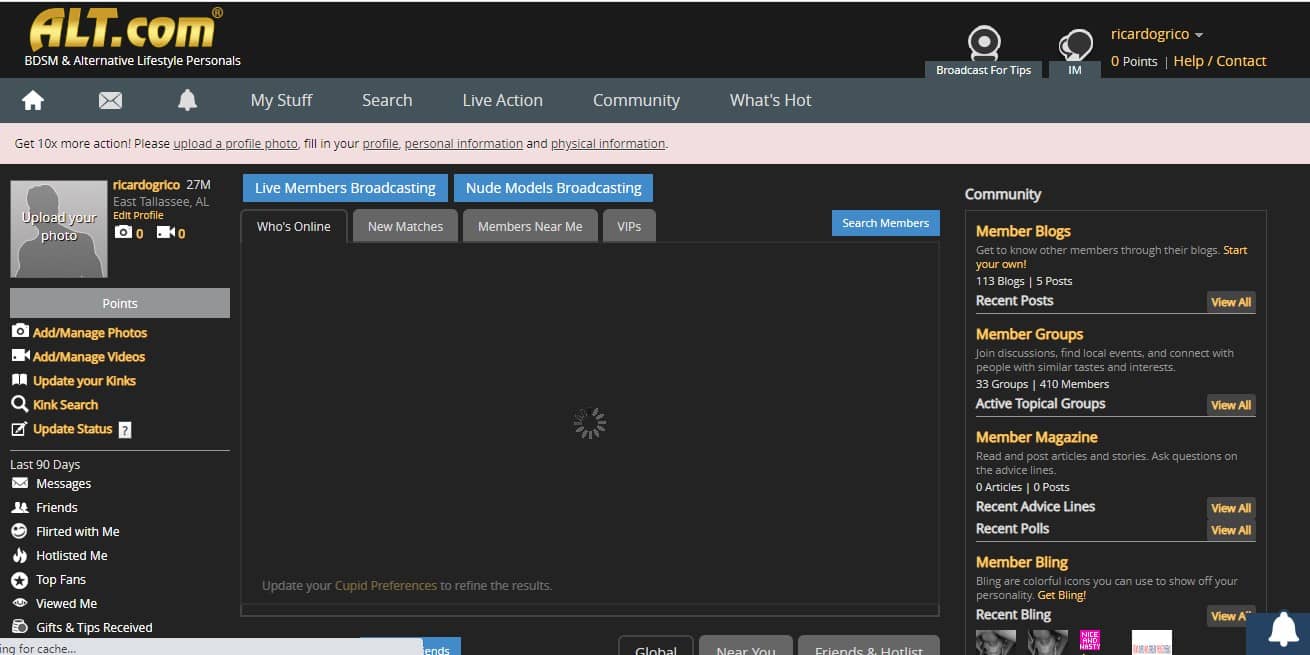 So far, we can say that the website is easy to understand and use. Although you cannot access a lot of features without a prepaid subscription, you still will have a lot to explore here. 
Audience 
The website is oriented on people who are eager to start doing forbidden things in sex like BDSM and other fetishes. Here, you can also find a partner for erotic video chatting, offline role games, etc. Unfortunately, there are more men on Alt.com than women (the ratio is 4:1). Consequently, you are likely to spend a lot of money and time before you find someone who will match your interests. 
There are almost half a million users from the USA and 80,000 visits of the website daily. Overall, it hosts over 1,2 million members. The major age group is 25 to 34 on this platform. Please note that there are not only single people on Alt.com. Since the website offers registering as a couple or a group, you may find a taken person or a group of people to hook up with. 
However, the diversity of users is not as good as it seems. Recent Alt.com reviews have shown that the audience is not real and the quality of profiles is low. Take a look at what other users are saying. 
Due to such an attitude of Alt.com towards its users and their inability to ensure the authenticity of profiles, we cannot recommend this service to anyone. 
Pricing 
Alt.com offers two membership plans: Gold and Silver. The gold plan can last for one month, three months, and a year. It includes the following features: 
viewing profiles of all members; 

contacting them by various means;

watching all their videos;

appearing on top of the search results; 

getting unlimited access to blogs and groups;

having access to full-sized images;

ICQ, MSN IDs, YIM of other users;

24/7 Customer support. 
The prices of the Gold membership plans are $29.95 for one month, $59.97 for three months, and $149.97 for a year of using the site. 
The Silver plan has the same features excluding full-sized images and access to ICQ and other contact information. Also, it offers only partial access to blogs, and videos of users. The prices are slightly lower in this case: a monthly plan costs $19.95, a three-month plan costs $35.97, and a yearly plan costs $99.97.
In comparison to other similar websites, the Alt.com pricing is higher while the features are not ample. Hence, we advise you to continue your search of the dating site that will fit your needs perfectly. 
Safety 
Safety is one of the most worrying issues for those who are dating online, and especially important for those who practice BDSM and related activities. Consequently, we checked the privacy policy of the Alt.com to see whether they care about its customers. Below you can see our findings:
Alt.com gathers so-called 'sensitive information' about its customers. It includes origin, race, ethnicity, sexual preferences, etc.;

The company uses this information and makes it visible to others so that your matches can be identified;

Alt.com gathers your personal information, like birthdate, location, and email address, and can use it for promotional activities of their own and transmit them to the third parties;

You can choose to not provide any personal data to the website, but it can affect your ability to use some or all services. 
As you might have guessed, you can use Alt.com at your own risk. Unfortunately, we cannot call it the best solution for your online dating experience since it cannot ensure the complete safety of your personal information. 
FAQ 
What is Alt.com?
Alt.com is a website designed for people who want to engage in BDSM, role games, and other sexual activities. It hosts over a million users from all over the world, and allows registering as a woman, a man, a couple, or a group. 
How much does Alt.com cost?
Alt.com offers two membership plans: Gold and Silver. Each of them can be ordered for one month, three months, or a year. The prices of the Gold option start at $29.95 per month, and prices of the Silver option start at $19.95 per month. 
Is Alt.com a Scam?
Unfortunately, Alt.com is likely to be a scam due to the low quality of profiles it provides. 
Is Alt.com Safe?
Since Alt.com transmits the information of its users to the third parties for advertising purposes, we cannot say that using this website is safe. 
Who owns Alt.com?
Magnolia Blossom Inc. is the owner of the Alt.com website. 
What security features does Alt.com have?
Alt.com does not provide specific security features so you have to understand your risks if you decide to use this site. 
Does Alt.com have a mobile app?
Yes, there is the Alt.com app for iOS devices that you can find on the App Store. 
How do I delete my Alt.com account?
To do that, you need to click on the 'My Stuff' tab, choose 'Edit My Profile', scroll the page down, and find the 'Close account' option. Then, click on the 'Please delete my account' option at the bottom. Confirm your action with your password, and delection is done.

---