BongaCams Review 2021 – Does This Webcam Service Sound Right For You?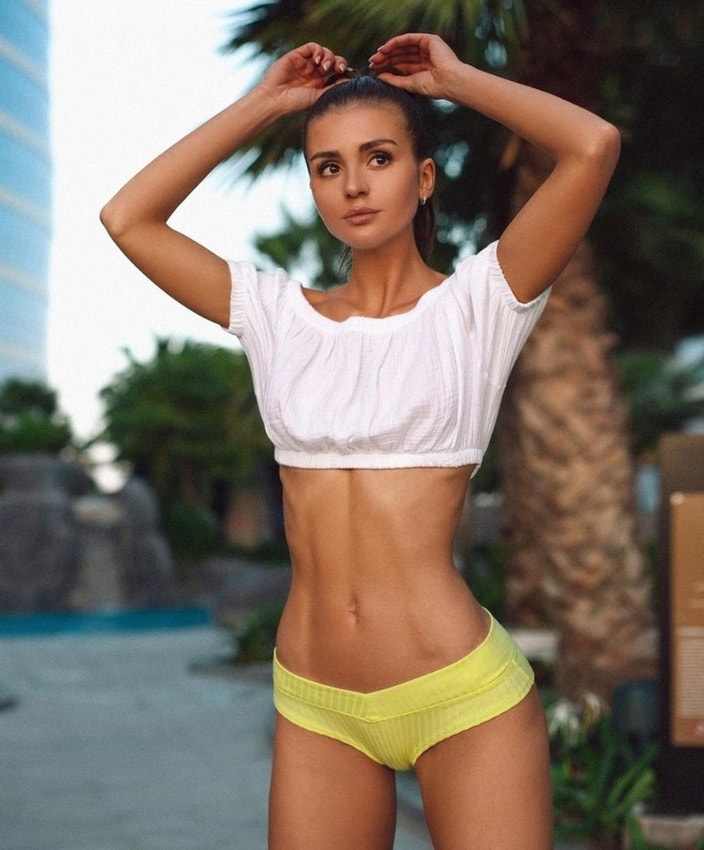 Prices

Audience

Interface

Safety
Summary of BongaCams
Bongacams is the adult video service you've probably heard about, especially if you know what other similar services are all about. In fact, this service has got the reputation of Eastern European alternative to big camming services that operate globally. Adult webcam sites create the entire industry of online entertainment, and the level of competition there is truly rough.
In this Bongacams review, we'll give the objective verdict on this platform. Is this one of the best adult cam sites or a random entry in your browser that you should use once and forget? Let's take a closer look at the services that have fairly easy registration and tons of users who are ready to get visitors entertained. But is this story really so positive? That's the question we'll answer right below.
Pros:
Registration is fast
Tons of high-quality content
Users do various stuff for donations
Cons:
Bulk of users are low-skilled beginners
You can't do much without credits
You have to pass compliance procedures to integrate into the service
Starting With Bongacams: How it Works
Like many other Bongacams reviews, this one will start with a guide on how to register on the site. First, you have to press the button Join Now For Free on the main page. After that, you're going to begin the registration process. It should be mentioned beforehand that it won't take long. In fact, we were surprised that the service didn't ask for tons of details about who you are, where you live, and what kind of books you read. Bongacams is not about that, this website is focused on the quality and level of interaction that you get from webcam artists. You've probably noticed that the main screen is full of tiles with live streams. So yeah, this webcam service wants you to watch them a lot.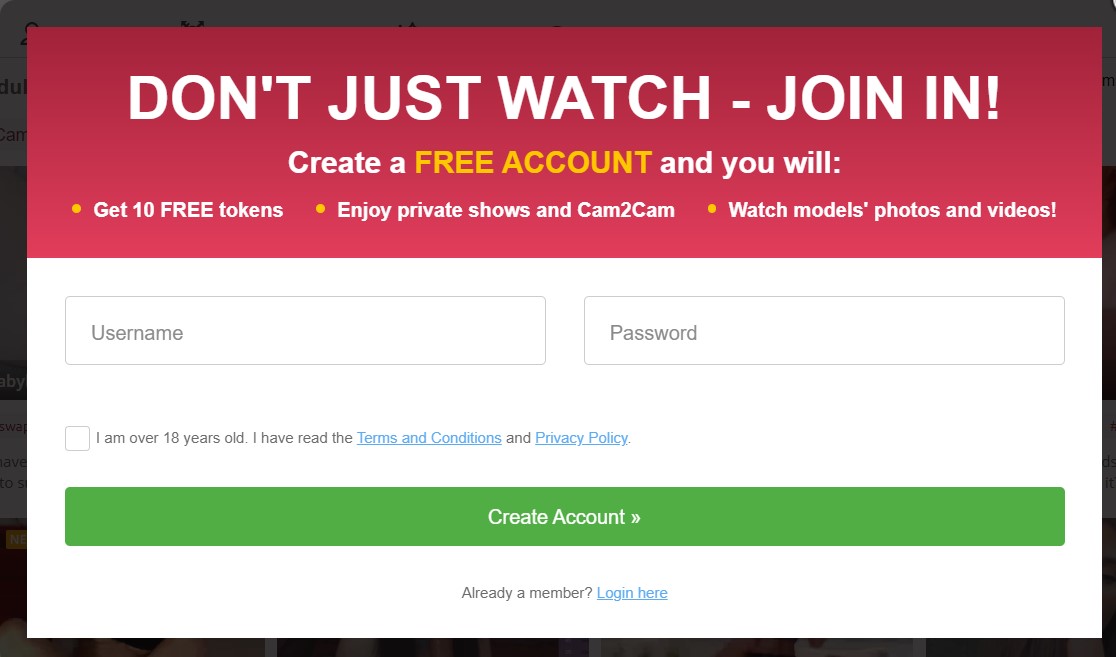 The first step looks like a giant banner where you have to fill in two fields and click the checkbox. In the first case, Bongacams wants to get your Username and Password. You'll use that for logging into your account later on. Secondly, you'll have to pick that you're over 18 years old and agree to the terms and conditions plus privacy policy. Whenever you're ready, press the Create Account green button to continue. Sounds easy? Yes, registration is really convenient on Bongacams, but nothing special compared to other webcam services.
You'll be transferred to the main screen with your profile activated in the upper right corner immediately. Notice that some pop ups will appear here and there. That's how Bongacams wants to entertain you with new features and enable notifications about new streams from the users you're going to bookmark after watching.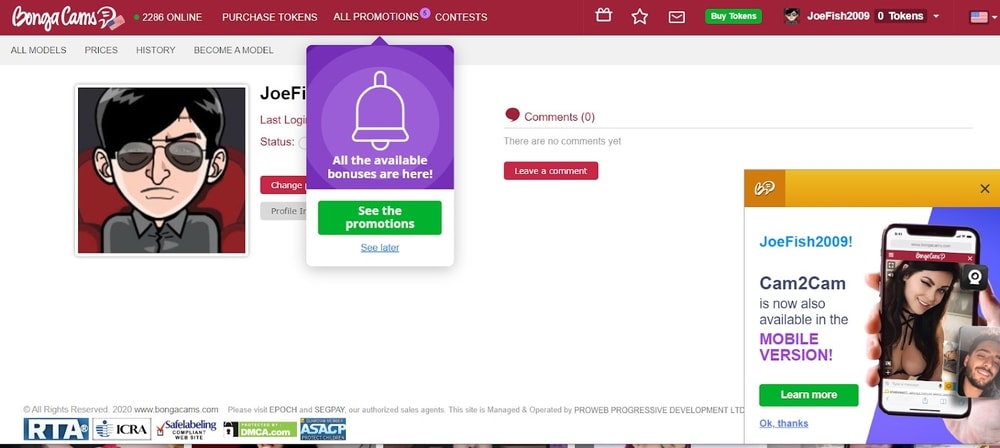 Your profile section will look like that. Here, you can tune everything you want about yourself for streamers to see. Moreover, you can even apply for a webcam artist. There will be a separate button for that. However, we assume that the main goal will be to check out what other webcam streamers can offer.
What Reputation and Feedbacks BongaCams Has?
Bongacams is a website with a mixed reputation because the nature of adult web streaming is itself quite contradicting. On the hand, people come here to watch for spicy entertainment on their own. On the other hand, some of the webcam artists are insisting on donations more aggressively than in the past years due to the severe competition. As with many similar products in this niche that have established their grounds on the market, Bongacams experiences rapid growth and becomes even more popular especially in the western countries. That's a plus and a minus at the same time. Considering reputation and feedback about BongaCams user experience, the impression is rather neutral, read below to find why.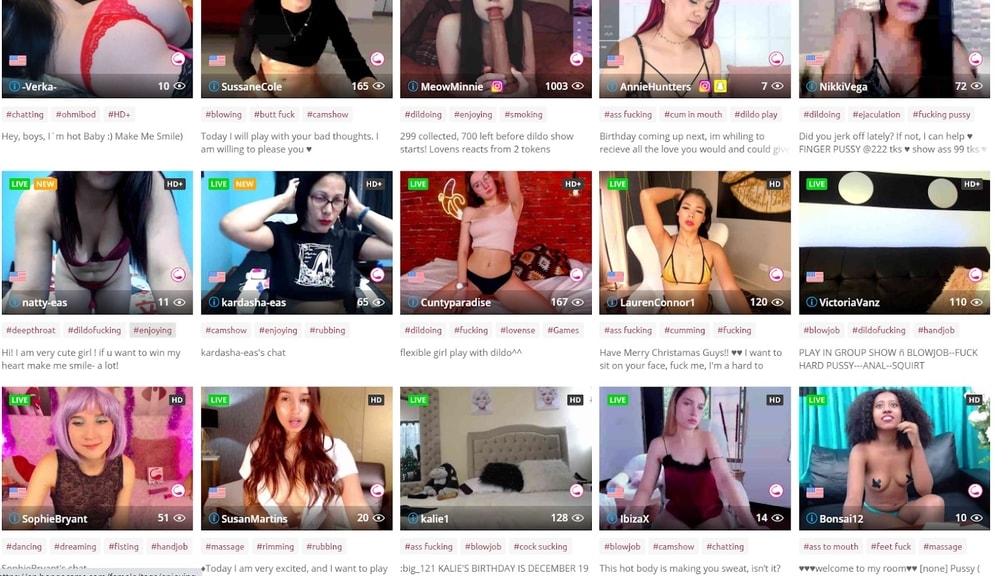 BongaCams can be really distracting when reminding you all the time to login and register from the first minute you open the website. It's irritating and different users indicate this as a negative side of the service. Fairly speaking, the registration process is fast and doesn't take hours of your time. That's where things get interesting because BongaCams begins sending you extra reminders, to check out their premium account type. Their premium account is the only chance for you to experience the features like unlimited chat access, Cam2Cam, and group private chats. Free account is only about sending donations for models to perform actions they set up in their chat log section. All in all, Bongacams gets the reputation of the service that pushes you to upgrade for premium rather than staying a user with free membership.
Let's focus on the feedback from users regarding this service. One of the biggest complaints from users is about poor support management in case models ignore paid tokens in exchange for doing the things they promote. It's a pity that a service so big and international cannot protect financial comfort of a constantly growing user base. Other complaints mostly refer to the mistakes that happen after users complete registration. Support asks to verify their ID after buying tokens and that seems odd. However, there is also a hefty amount of positive replies to the experience with BongaCams. First of all, users talk about an amazing number of webcam categories, from solo to group artists. It proves that the service is developing because not even ten years ago, there were mostly solo artists on BongaCams.
BongaCams Prices: Membership and Currency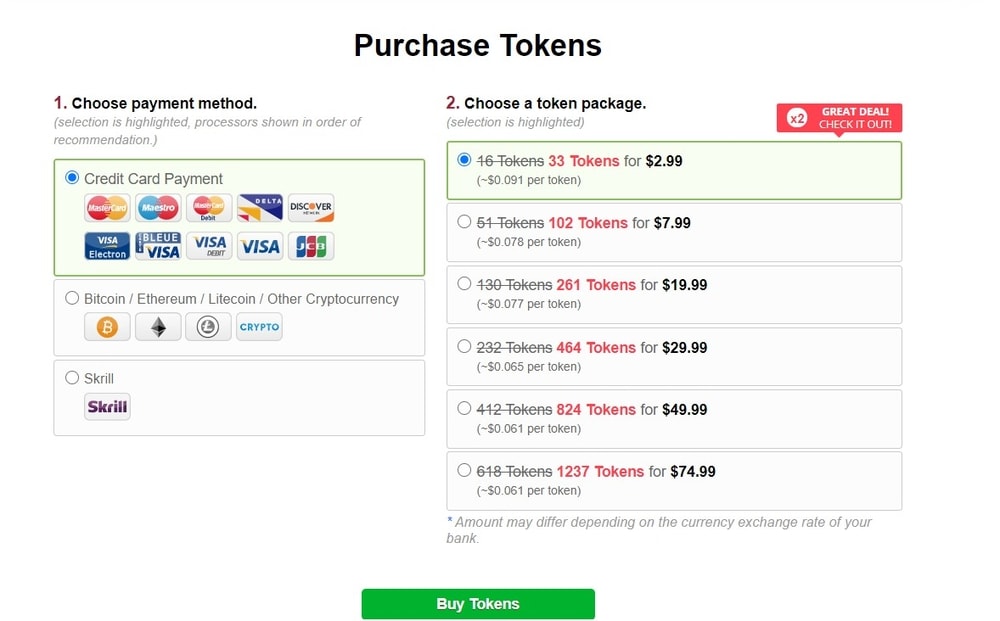 BongaCams currently supports two main types of user membership, plus a minor role we'll talk about in a second. According to the FAQ page on BongaCams, you can join the following membership types:
Free membership. Once you register on BongaCams, you're no longer a guest. Being a registered member on this website, you can now purchase tokens, or local currency, to pay models for actions. No extra charges for this type of membership.
Premium membership. You get premium membership not for a separate fee. The way to change your profile status for this one is simple. All you have to do is to pay with tokens once in a room chat with one of the models. This membership opens access to all of the features inside of BongaCams.
Moderator membership. A special type of membership that cannot be achieved via payment. As a moderator, you can control model chats for proper behavior, ban users for offensive language, and mute users who are too annoying.
As for the actual prices, BongaCams has different token bundles:
| | |
| --- | --- |
| 1 Token | 0.04 – 0.095 € |
| Group Chat | 30 tokens per minute |
| Private Chat | 60 tokens per minute |
| Full private chat | 90 tokens per minute |
| SPY Chat | 15 tokens per minute |
Credit Card Payment:
26 Tokens for 1.99 €
76 Tokens for 4.99 €
156 Tokens for 9.99 €
462 Tokens for 24.99 €
984 Tokens for 49.99 €
1260 Tokens for 65.00 €
1480 Tokens for 74.99 €
10160 Tokens for 500.00 €
20000 Tokens for 990.00 €
50800 Tokens for 2,500.00 €
BongaCams also accepts WebMoney to pay for tokens if you don't want to use a credit card
A Word About Advantages of BongaCams
Taking a closer look at the advantages of BongaCams, they're too obvious not to notice. First of all, the service has more than enough after registration as a free basic member. This type of account opens the access to the categories that range from single models to oiled gay couples who are accompanied by transgenders. It sounds like insanity, but performers on BongaCams are very different people with interesting backgrounds. The prices are also not too steep from the very start. You can try out the basic package for a couple of bucks, and that will be enough to toss a token for adult entertainment happening in the live mode.
BongaCams: Final Conclusion
BongaCams is the webcam performance service with an adult angle that gets a neutral quality mark. From one perspective, this service is easy to start without asking tons of details about you. It's also not that expensive for starting token packages, but watching for free is also available. On another perspective, there are too many amateurs among webcam models who deliver poor responses to donations. Sometimes, they just skip the actions they were paid for ignoring you at all. BongaCams is recommended for users who are only discovering the industry of adult webcam websites. This is a nice spot to start, yet it's definitely not the best one out there.
FAQ
What is BongaCams?
BongaCams is the adult live streaming service that hosts webcam models who perform in online shows 24/7
How much does BongaCams cost?
Prices for tokens:
26 Tokens for 1.99 €
76 Tokens for 4.99 €
156 Tokens for 9.99 €
462 Tokens for 24.99 €
984 Tokens for 49.99 €
1260 Tokens for 65.00 €
1480 Tokens for 74.99 €
10160 Tokens for 500.00 €
20000 Tokens for 990.00 €
50800 Tokens for 2,500.00 €
Is BongaCams a Scam?
No, the website has a transparent registration system and monetization that eliminates any probability of scam
Is BongaCams Safe?
It's safe to use in general. However, you should be careful with the tokens you purchase since not all models
Does BongaCams have a mobile app?
Yes, the website has a mobile extension called BongaModels
---