Our Ratings
Pros
Broad community
Stable performance
A beneficial pricing policy
A well-designed mobile website
Reliable customer support
Cons
Advertisements for non-premium users
No simple private broadcasting. To start broadcasting, you need to submit age verification documents
Chaturbate Summary
Chaturbate stands among the best webcam sites where you can enjoy stunning webcam shows every evening. Or, you can become a performer yourself and make bread and butter while pleasing yourself. This site brings many stunning features to the table, from intuitive design and smooth performance to an extensive community, a high-quality mobile site, and cheap subscription costs. Thus, we can recommend this platform to you if you want to have an excellent time or make good money without effort.
Visit Site
---
Get into our Comprehensive Chaturbate Review
How does Chaturbate work, how many people are there, and how much money does it require? Is Chaturbate safe? Check this all out in our Chaturbate review below.
Features, Functionality, and Design of Chaturbate
The best part of Chaturbate is that you can benefit from 80% of the content without even registering an account.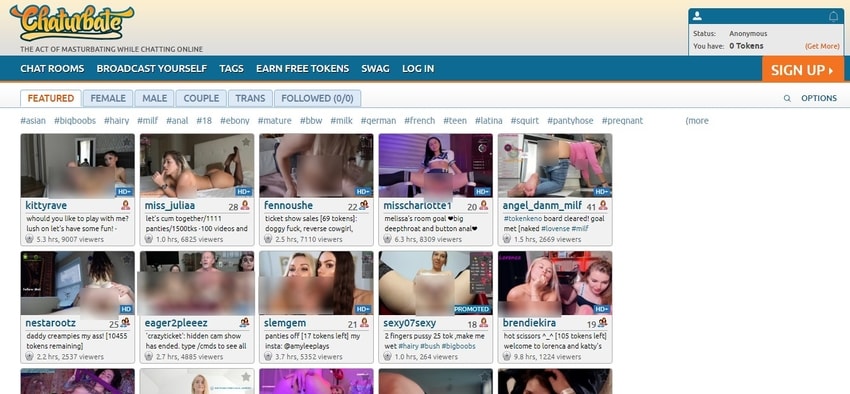 So, here are the steps for enjoying stunning live broadcasts for free:
Visit the Chaturbate website.

Choose a webcam you like the most.

Relax!
You will get access to unlimited free shows. Nonetheless, private shows are a whole new ball game. To access private chat rooms and communicate with broadcasters, you need to create an account. So check these steps on setting up a Chaturbate account:
Visit the site and press the

Sign Up

button.

Fill in the required info that includes a username, a valid email, and a password for your account. Also, indicate your age, gender, and check the terms of use and privacy policy.

Complete the captcha.

You're a Chaturbate member now.
Note that couples can also create an account, so both you and your partner can benefit from the platform, broadcasting couple shows, or having fun with other website members. All in all, the Chaturbate registration is pretty simple and straightforward, taking no more than half a minute. What other features does Chaturbate provide? Check them below:
Managing Your Chaturbate Profile
On Chaturbate, you can edit your profile and add photos and videos, just like you can on any other webcam or dating website. So, let's cover the profile options in detail. Here they are:
Name (you can optionally display your real name).

Birthday (again, it's optional profile info).

Gender.

Interested in.

Location.

Language.

Body type.

Habits (smoking/drinking).

Body decorations (tattoos, piercings)

Self-description.

Wish lists.
As you can see, profile description options are minimal. However, being a webcam site in nature, with great emphasis on visual assets, Chaturbate doesn't need to implement sophisticated profiles. Instead, Chaturbate has plenty of useful privacy adjustments for your account. Here they are:
Geographical restrictions. You can exclude users from certain countries. Also, you can block certain regions of your country.

Gender restrictions. You can block certain genders from accessing your webcam show. For example, you can allow only women and couples to see your profile.

You can allow or block Chaturbate partner services. Still, it's not recommended. Otherwise, you will lose a significant portion of your views.
Browsing Chaturbate Webcam Shows
Chaturbate offers a wide range of search options for webcam shows. First, you can choose from the following categories:
Featured

Male

Female

Couple

Shy Shows

Followed (you can track individual performers to see when they are online)
Moreover, you can filter webcam shows by hashtags. You can click on the most popular ones under the webcam categories or follow the More link and choose the most engaging webcam rooms under hundreds of hashtags.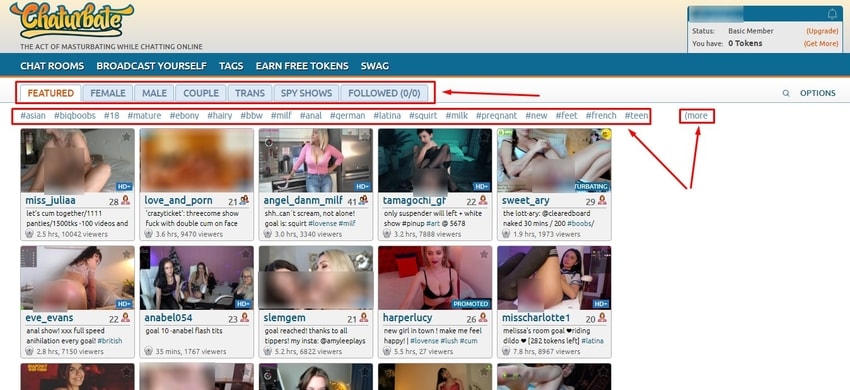 Interacting with Chaturbate Models
So how can you get to Chaturbate chats? Click on any webcam to enter the conversation. The chat window is displayed on the left while the actual show is on the right. It's an intuitive and comfortable setup. What is more, you can adjust the video quality and also enlarge the video to full screen.
How does the interaction happen? Look at the chat. You will see people tipping the model. The performer also displays the tip list. So you can ask them to do specific actions.
Additionally, many performers have interactive toys that respond to tips. Once you tip the model, the toy activates. You can also see how many tokens are required to enable a particular toy mode. For example, medium vibrations for 10 seconds cost 30 tokens.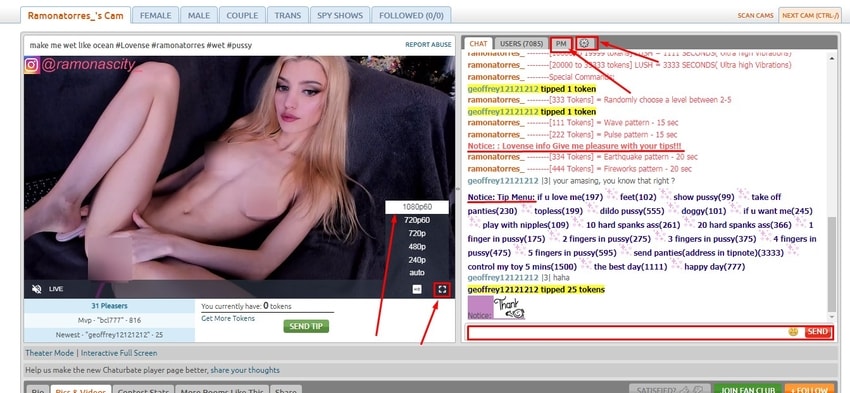 Additionally, you can send private messages. For this, you need to ask a performer for the password.
Entering Chaturbate Private Shows
Usually, the hottest things happen only in private shows. What's more, private rooms are made to let the models accumulate as many tokens as possible in the shortest time.
So once you enter the private chat room, you will be charged per minute. After running out of tokens, you can no longer continue enjoying the private show. Sometimes, models allow users to "spy" on private rooms. So it means you can watch what happens, but no interaction is permitted. The best part of Chaturbate is that each performer sets the costs for their shows individually. It means you can find less popular (but gorgeous) models with lower charges.
A Few Words about Customer Support on Chaturbate
Chaturbate has extensive customer support. Unlike other webcam services that only feature a FAQ page, Chaturbate has a subdomain support.chaturbate.com that features broadcasting guides, tips for earning the most tokens, FAQ, etc.
It also has a health blog that provides crucial tips for maintaining sexual and mental health during the pandemic. From there, you can access helplines, learn how to explore your body, overcome insecurities, etc. Furthermore, Chaturbate emphasizes body positivity as one of the crucial mental and physical health aspects.
What about the support department? Can you get an instant answer from the support team? Yes, you can. If you need more information on the service or other help, you can reach the Chaturbate support team via email 24/7.
Overview of the Chaturbate Web Reputation and User Feedback
While scrolling for Chaturbate reviews, you will find that most users, both performers, and viewers believe it's a good website. It pays its models regularly, maintains superlative video quality and smooth performance 24/7 even when millions of people visit the platform at once.
Chaturbate became one of the 100 most visited websites in 2020. Thus, it's a real success sign.
Are there Complaints about Chaturbate Scams?
What about user feedback? Can you get scammed on this platform? Some people complain that models kick them from private shows or permanently ban them. They call it a scam.
Nonetheless, it's not a scam in reality, but a misunderstanding. A model has a right to block unwanted users at their discretion at any time. It's a healthy approach that ensures they can isolate themselves from bullying or rudeness. Furthermore, viewers tip models voluntarily while performers do things if they wish to.
Just think of a situation: a performer states that they don't do anything related to anal sex. Still, one of the followers tips a model and asks them to insert a 17-inch dildo into (well, you know). A performer refuses to do such stuff. 
The follower insults them and gets banned from the show.
After that, they report the performer and go to a review website to write a lengthy complaint about Chaturbate scams. In reality, most complaints come from a misunderstanding between a performer and a viewer. They don't relate to the platform itself.
Checking Prices for Memberships and Tokens on Chaturbate
Chaturbate offers reasonable prices for premium services. Compared to other webcam services or dating websites of a much smaller scale, Chaturbate's monthly subscription is 20-30% cheaper. With only $19.95 per month, you will unlock all premium features, including private chatting and removed ads. Additionally, you will receive a bunch of free tokens while purchasing premium membership.

So this service doesn't force you to choose between comfort and price. It provides you with everything, even if you're on a modest budget.
To purchase a premium membership, you need to locate the upgrade status link in the profile management menu. After that, press the Upgrade Account button and follow simple instructions.
You can also buy tokens individually. Thus, 100 tokens cost $10.99. Additionally, you can save up to 37% while purchasing them in bulk.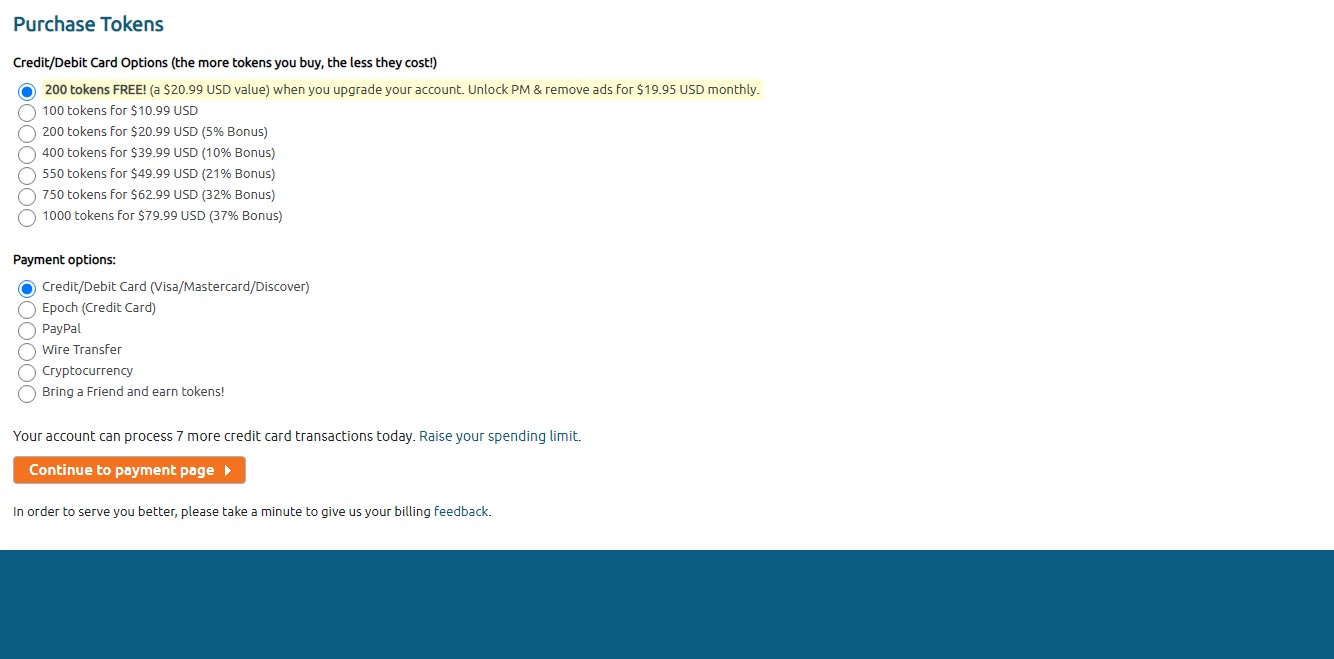 Payment Options on Chaturbate
On Chaturbate, you can choose between credit and debit cards, e-wallets, wire transfers, and even cryptocurrency. With all these options available, you can fund your balance in a couple of clicks.
What's more, Chaturbate doesn't try to impose some shady bonuses to other services, as most scam websites do. So, it's safe for payments.
What are the Advantages of Chaturbate?
Chaturbate stands out in the best possible sense, and here's why:
It Has a Broad Community
There are at least 5,000 webcams registered on Chaturbate. Also, over 6.5 million people visit Chaturbate monthly. It's a winning situation for both performers and visitors. Thus, you can browse countless webcams and enjoy warm attention from hundreds, if not thousands, of followers in your chat room.
It's Safe
Is Chaturbate safe and reliable? It's secure and meets all digital safety standards. Thus, it regularly conducts server maintenance procedures and checks its environment for security breaches. Apart from that, Chaturbate is certified and protected by DigiCert, the world's biggest SSL certificate authority. At this moment, no Chaturbate data leaks have been reported.
It's Mobile Compatible
There's no Chaturbate app on Google Play or App Store, but that's because these platforms don't support the adult industry. But it has never become an issue for this company.
Chaturbate has one of the most optimized and convenient mobile sites. In essence, you won't even notice the difference between a regular app design and a mobile website. The latter fits all screens like a glove and supports all Desktop features.
You Can Earn Big Money Here
Successful Chaturbate models have thousands of subscribers. Just imagine each of them sends you at least ten tokens each day. On Chaturbate, you can earn big money having an excellent time, enjoying yourself literally. Perhaps, it's some of the most pleasant money you can make out there. If you get online regularly for up to four hours, you can accumulate $5,000-$6,000 just in two weeks.
FAQ
What is Chaturbate?
Chaturbate is an international adult webcam streaming service launched in 2011. Currently, it's one of the largest webcam sites on the internet.
How much does Chaturbate Cost?
You can create an account, manage your profile, watch all webcam shows, chat with anyone, and start broadcasting yourself for free. Premium features cost only $19.95 per month, while tokens are also very cheap: you can buy 100 tokens at just $10.99.
Is Chaturbate a Scam?
Chaturbate is not a scam. It's fair, reliable, and free of charge.
Is Chaturbate Safe?
Chaturbate meets digital security standards, which means you can use its site without risking your privacy and money.
Does Chaturbate have a Mobile App?
Chaturbate doesn't have a mobile application, but you can access a mobile site that doesn't differ from a downloadable application in terms of functionality and design. You can open your mobile browser, get to the site, and enjoy thousands of webcam shows.
MORE REVIEWS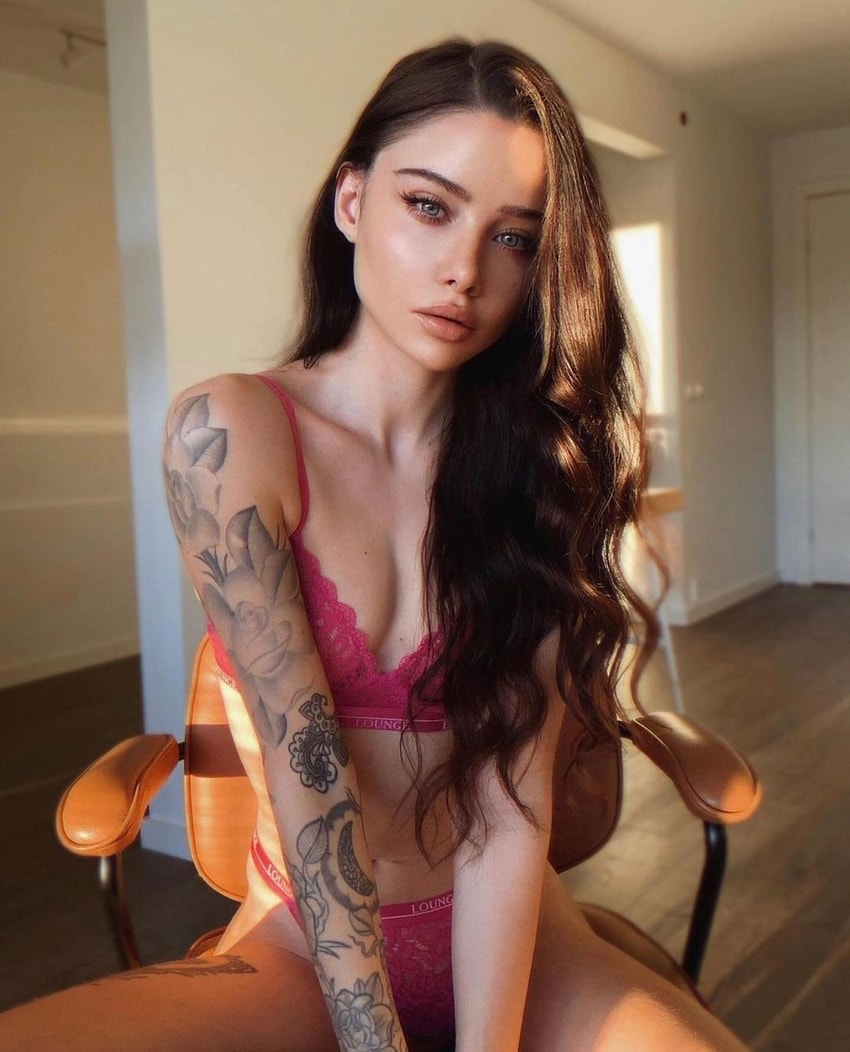 LonelyWifeHookup Review
Looking for a partner outside one's marriage is not a rare thing nowadays, but the means of meeting them have changed drastically. Today, you do not need to go to the clubs and bars to meet someone and spend time getting to know them over a cocktail or two. All you need is to pick an online dating platform that automatically searches for your matches and start chatting with them.  Be it a one-night stand, discreet dating, or just online cheating, you can find it all on the web today. The only tough part about it is choosing a perfect website among dozens of them. In this LonelyWifeHookup review, we reveal all the pros, cons, and peculiarities of the service step-by-step so that you can decide whether it is a good fit for you.  LonelyWifeHookup is an online discreet dating site for people who want to have fun outside their family. Although its idea looks well at first sight, our experience of using it was not as good as we had expected. Below you can see why.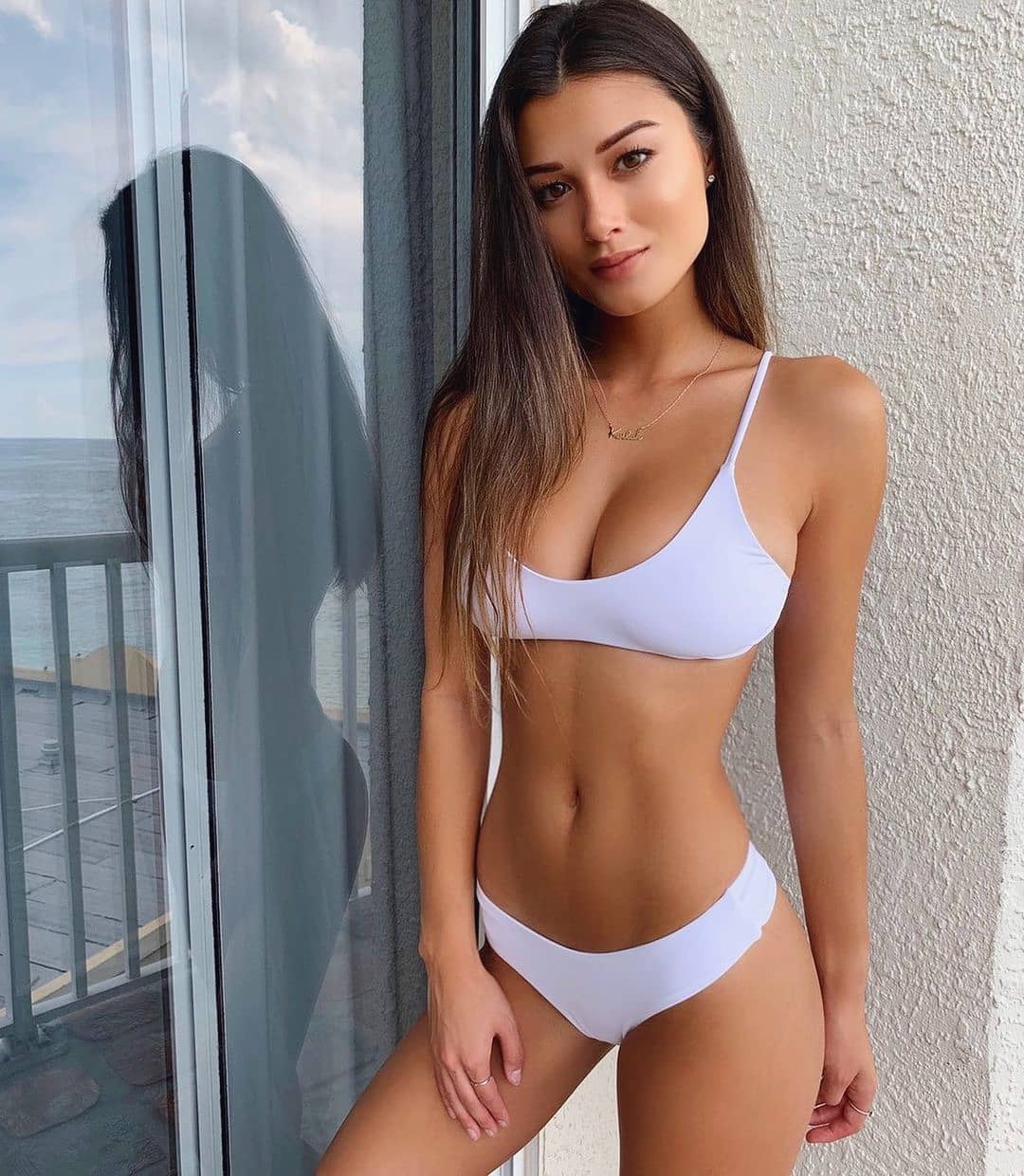 LiveJasmin Review
Currently, LiveJasmin is one of the most popular and oldest sites with live adult cams. This online platform was created to connect site visitors with models in real time and allow customers to realize their wildest erotic fantasies. That being said, no matter how daring these fantasies or fetishes may be, LiveJasmin can provide an interactive experience with particular models enabling it to surpass all users' expectations. This site has received many international awards such as The Best Live Video Chat, The Most Innovative Camsite of the Year, and The Best Mobile Application for Adults.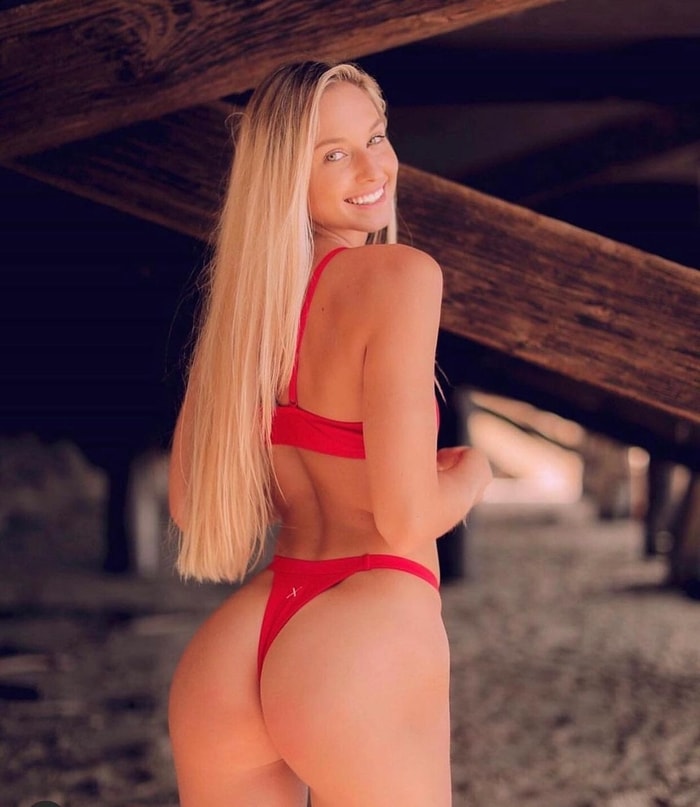 Xmatch Review
Thanks to the existence of the Internet and online dating agencies, finding a full-time partner or merely a person for a one-night stand is no longer a problem. There are a lot of hookup sites, and this fact makes it difficult to find a reliable one. We want to help people in this endeavor, and that's why we decided to evaluate one of the popular hookup platforms —Xmatch.   Xmatch belongs to the Various Inc. This company is a world-famous leader in the online dating niche: AdultFriendFinder, BigChurch, Amigos.com, etc. are other dating services operated by Various Inc.  Xmatch was launched in 1996, and it mainly focuses on people who look for a hookup. The service has a multi-million audience, but it doesn't guarantee that Xmatch is trustworthy.