An Exhaustive Marital Affair Review All Affair-Seekers Need to Check
Prices

Audience

Interface

Safety
Overview
If you start to think that your current relationships will soon face a crisis, the best you can do is try to save them. However, sometimes the attempts to inject love and passion into them fail, and one of the spouses decides that having an extramarital affair is a good way to get the mind off the troubles and relax. If you're reading this article, you are the spouse who is looking for the encounter.  Here we won't explain to you what you do and what consequences your action can cause; we hope you're a grown person able to take responsibility for your actions. Our aim is to provide you a comprehensive and impartial MaritalAffair review.
This service was established in 2006 as an online platform for married people or just singles who look for discreet dating. More and more people who opt for online dating worry about their privacy and become pickier about choosing a dating platform. Perhaps, it's one of the factors that caused the popularity of Marital Affair and other discreet dating websites.
We've evaluated our experience with Marital Affair to create this review, so continue reading to get acquainted with this service. But first, check the list of strengths and weaknesses we identified after using MaritalAffair.
Pros:
The signup process is fast.
A like-minded adult community.
Many options are available for free members.
Online Dating Protector provides security for members.
Cons:
The design is rather outdated.
The website is full of fakes and bots that impersonate real people.
There's no mobile app.
A lot of negative reviews on the Internet.
How To Start Your Dating Journey on Marital Affair?
Let's imagine that you've chosen Marital Affair among the countless number of other discreet dating platforms. If you want to start your dating experience with this service, first you should visit the official website.
The homepage interface is nice and welcoming, and it's rather informative. All visitors may scroll down the page, spend 5-10 minutes and learn more about the service and its features. Naturally, Marital Affair describes itself as the best platform for discreet encounters, but we all know that only first-hand experience will let us reveal the truth and evaluate the quality of services delivered.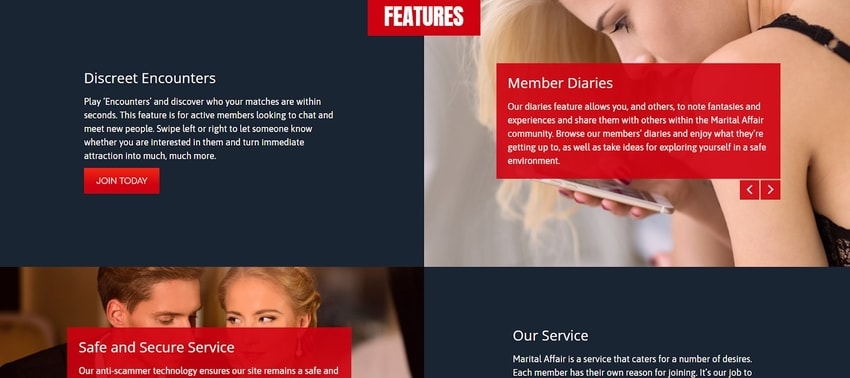 When you're done with exploring the service, you can proceed to create a profile. "Sign Up," "Join Today," and other similar buttons are scattered all over the page, so you won't have difficulties with finding the registration form. Press any of these buttons, and you'll be redirected to the subsection at the top of the homepage. It's a starting point of your journey on Marital Affair. You're required to specify your gender and dating interests to continue registration.
A signup process on Marital Affair is fast enough because users don't need to fill in a large registration form and complete several questionnaires. Name and birthdate – that's all personal information you have to enter here. Then you are required to specify your email and create a good password. Be especially attentive with the latter aspect because a password guarantees your security. Don't enter the first combination that comes to your mind; think carefully before establishing your password. And even the fact that Marital Affair guarantees you security shouldn't stop you from being attentive and careful.
You're one step away from viewing the available matches: check the Terms of Use, Privacy, and Cookie Policies and put a check to show you agree with them. Don't forget to do the same in the field below and indicate that you entered a valid email address and want to subscribe to the MaritalAffair newsletter.
The next step is email verification. If you filled in all the blanks, you'd be sent a letter with a verification link. All you have to do is open the letter and click the link. By the way, you'll be redirected to the page with detailed instructions. You shouldn't have any difficulties with this procedure; however, you'll find an answer on this page if something goes wrong. Here you can also change your email or resend the letter again. If you do everything right, your account will be verified. So, now you have access to the Marital Affair and can start your dating journey.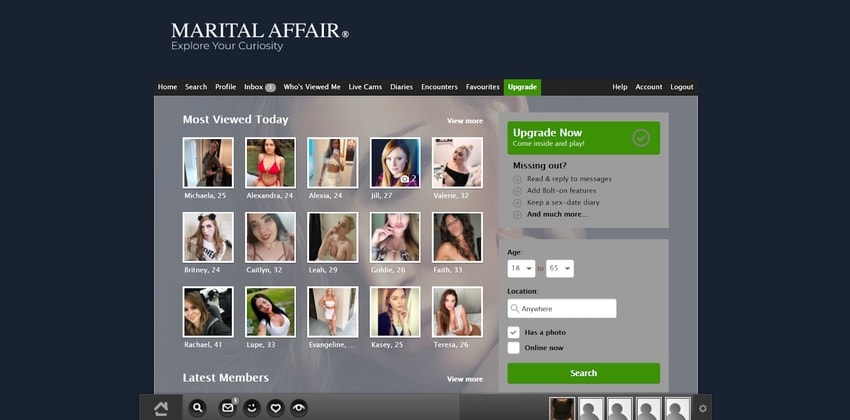 The website's interface looks a bit different from the interface of the homepage, so many users may be disappointed after having the experience with Marital Affair. However, in comparison with other discreet dating platforms, Marital Affair is nice-looking and convenient. Developers may make the design look more up-to-date and it will satisfy all clients.
Who Are The Members of Marital Affair?
One of the features of a Marital Affair is a community of like-minded people. As we've already mentioned in this Marital Affair review, this service claims to be a discreet dating platform where people chat and arrange meetings to fulfill their wildest fantasies.
This service caters exclusively to adults; that's why people under 18 aren't allowed to register on it. The chance of finding a married woman/man who is searching for a partner for an affair is rather high. Discreet dating services are popular among single people who want to find someone for a one-night stand. Websites that cater to the general audience make it hard to meet a person with the same unfettered views as you have.
Open the homepage and scroll it down to get acquainted with the most popular people, new members, find people who are online, and look at the best photos of them. If you have any specific dating preferences, open the "Search" section to apply the search filters. Here is a small part of all search filters that exist on Marital Affair:
Hair color;
Hair length;
Pierced;
Shaved;
Height;
Origin;
Favorite position;
Smoker, etc.
It may seem that finding an ideal partner for intimate relationships on Marital Affair is easy, but certain circumstances can complicate the process. After spending 5-10 minutes on the website, you start to understand that there's a lot of fakes and bots that send you messages and winks. You may need some time to distinguish who is a real person and who is fake here.
The Pricing Policy of Marital Affair
The range of services available for free members on Marital Affair is huge enough, and it undoubtedly is an advantage of this platform. The majority of dating services existing now aim to make money out of their clients, so no wonder that the users with a free subscription can do nothing besides viewing the profiles. Marital Affair lets everyone register for free, customize the profile, add photos, visit other users' profiles, send winks, and search for people. Moreover, you may see who's viewed your profile. These options are enough to try the service and decide whether you want to use it or not.
As soon as you decide to read messages in your inbox, read dating diaries and add more photos to your profile, you'll be offered to purchase a membership. There are four membership plans available for purchasing:
1 month – 26,72$.
3 months – 53,50$.
6 months – 86,98$
1 year – 120,46$.
Besides traditional payment options, such as bank cards, users may pay for a subscription using the mobile phone. All you have to do is to write an SMS. On the whole, Marital Affair prices are affordable for the majority of people, especially taking into account the pricing policies of competitors.
A Few Words About Safety Of Marital Affair
Since numerous Marital Affair reviews complain about fake profiles and bots, we consider it necessary to address this issue in our review. Some people don't trust online dating services because of certain scandals with safety that occur with certain websites from time to time. It may seem that the solution is obvious: to register on trustworthy and reliable platforms; however, even it can't save you from trouble.
The presence of bots and fakes can be easily explained: email verification is the single way of verification of users on Marital Affair. Whereas other dating platforms want to deliver the highest-quality services to their users and implement phone or ID verification, Marital Affair is a little behind. The drawback of email verification is its unreliability. If the service blocks a scammer, he may create a new email address and register again. Such an outcome is impossible when an ID verification is implemented.
Marital Affair claims to be protected by Online Dating Protector that monitors profiles 24.7, detects fakes and reports them. But it still can't solve the problem with bots and scams.
Online payments also make people be afraid of their money. Fortunately, Marital Affair cared about it. All payments you make on the website are protected by SSL encryption. Fortunately, a significant number of Marital Affair reviews didn't report any payment security issues.
The Bottom Line on Marital Affair
We tried to create the most comprehensive Marital Affair review, and we seem to achieve our aim. After you read it till the end, you'll have an idea of what it is, what services it provides, what people register on it, and how much it costs. If you have any questions concerning this website, be sure to find answers in our review.
Relying on the results of our experience with Marital Affair, we may make a conclusion. Unfortunately, we don't have enough reasons to call this discreet dating service the best; however, it's still worth trying. Marital Affair promises all new users will join a like-minded community that makes it easier to find someone for an extramarital affair or sexual encounters. And service manages to keep a promise.
Security, interface, and some other aspects need improvement, but even these drawbacks can't make us tell that Marital Affair is the worst service. We advise you to use another platform for finding an extramarital affair, but if you want to try MaritalAffair, you just should be more careful.
FAQ
What is Marital Affair?
Marital Affair is an online dating site that caters to adults, especially married ones. These people often feel sexually frustrated and consider finding a partner for extramarital affairs. Marital Affair is a discreet dating service, and it's designed for this purpose.
How much does Marital Affair cost?
The prices of membership range from 26 USD per 1 month to 120 USD per 1 year. There's no trial period on Marital Affair, but you may remain a free user for some time to test the service.
Is Marital Affair a Scam?
No, Marital Affair isn't a scam. If you registered on it but didn't find a date, it's only your problem. The service doesn't guarantee that you meet an ideal partner here, so there's no reason for calling it a scam.
Is Marital Affair Safe?
People's reviews are different. Some users say Marital Affair is a safe and reliable service, whereas others are deeply dissatisfied with it. At least, Marital Affair doesn't steal users' data and doesn't transfer it to third-party companies for profit, so we can call it safe.
Who owns Marital Affair?
Venntro Media Group and its brainchild White Label Dating are the companies that are behind Marital Affair and lots of other niche dating services.
What security features does Marital Affair have?
Unfortunately, Marital Affair can't boast of having a responsible attitude to security, and the growing number of bots proves it. Email verification and Online Dating Protector are the key security measures implemented by this service.
Does Marital Affair have a mobile app?
No, you can't download a Marital Affair app. If you want to access the website from your mobile phone, do it using your mobile browser.
How do I delete my Marital Affair account?
Don't try to find any information concerning deletion of accounts in settings. Go to the "Help" section and find the necessary subsection. Read the information, press "Please continue the deletion," specify the reason for leaving, and delete your account.
---