Our Ratings
Pros
fast sign-up process
easy dashboard to navigate
detailed users' profiles with pictures
timely customer support
affordable prices
Cons
the absence of a dating app
limited features for free users
The first impression of Wantmatures: design and interface 
The first time you visit Wantmatures.com, you'll notice that this site is one of the most minimalistic on the web. You won't see multiple ad banners and invitations to pay for a membership immediately which is a plus. Instead, the website contains just a simple motto 'Meet ladies who know what you want' and a quick sign-up form on the right. If you swipe down a bit, you'll see the platform description that will help you understand whether the website fits your needs. 
To join Wantmatures, you need to fill out the questionnaire on the homepage. First, you are asked to identify your gender and whom you are looking for on the website. Next, you need to indicate your age, type your email, create a password, and choose your location. After that, click the 'Join Now' button at the bottom of the form. You will be redirected to a confirmation page saying that you need to verify your email. Once you click the link in the email from Wantmatures.com, you'll be able to enter your account on the dating site. In particular, the search engine page will open and invite you to explore women's profiles on Wantmatures. The proposed ladies will be picked based on your location. If you want to diversify your search results, consider adding more information to your profile, including your interests, etc. Thus, you will help the website algorithms to pick more matches for you.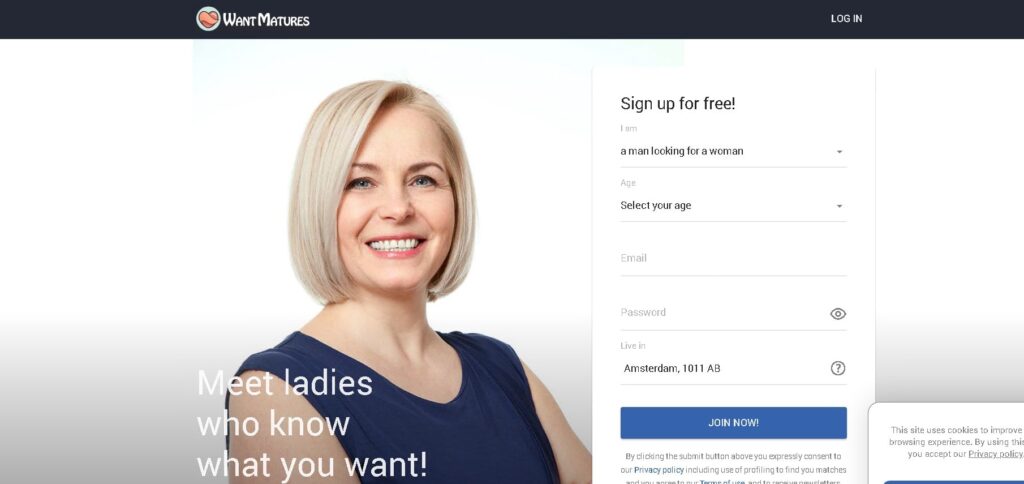 If we take a look at the recommended women's profiles, we will notice right away that they are chosen with care. All ladies are just a few miles away and are only a few years younger and older than the age stated in our profile. Their profiles have a couple of pictures and information about their interests and expectations from dating on Wantmatures. Also, you can find information on their appearance, e.g. hair and eye color, body type, ethnicity, etc. At the top of each woman's profile, you can see 'Chat', 'Like', and 'Add to favorites' buttons. The first option is available once you upgrade your profile to premium. Unless you do it, you can only read messages from other users, but cannot reply. 
As you can see, the website is pretty easy to join and convenient to navigate. At the top, there is a dashboard with a few buttons 'Upgrade' (to purchase the membership package), message and notifications icons, your profile, and the 'filter' button to find more ladies online. We can say that Wantmatures dating site reviews that praised the website usability are quite reasonable: this app is one of the most user-friendly at the moment.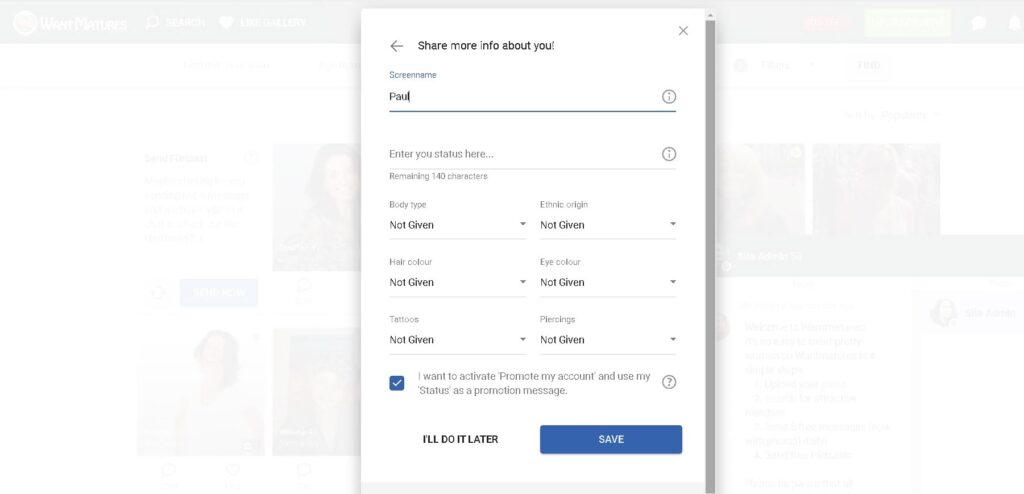 What is the Wantmatures principle of work? 
Now let's take a closer look at the website goals, mission, and terms of use.  Wantmatures.com was launched to help people older than 35 years old meet, connect, and start a relationship online. The website creators believed that in spite of age, people want to fall in love, create long-term bonds, and be happy: some men and women get divorced, some get widowed, some have never been married, but that doesn't mean they shouldn't find their soulmates in their 40s or 50s. Therefore, if you believe in the power of love that can change your life anytime, Wantmatures.com is the best option for you. This website's mission is to connect people from all walks of life to become happy couples. 
The website not only offers you a chance to meet new people but also cares about your privacy: all your financial data is encrypted to ensure your credit card security. The website uses SSL certificates to code your data and charge money from your card. There are also a variety of safe payment methods: online payment with VISA, Mastercard, American Express, and Discover credit cards, and bank transfer. Also, the website provides safety tips for your online and offline dating so that you could enjoy communication with women without the fear of being scammed. 
Another principle of Wantmatures is transparency. On this site, all members are encouraged to add pictures of themselves to create a feeling of closeness between users. At the same time, the website values comfort of every user, so explicit pictures and content are moderated to avoid insulting people's feelings. 
With that in mind, we can say that the discussed website is a good choice for everyone who wants their privacy and customer satisfaction to be met. Multiple Want matures reviews confirm that the website does a good job in meeting their standards of work. 
What do people say about Wantmatures?  
To make sure that a certain dating site is worth your attention, we suggest that you check its reviews before using it. It will help you to find out the advantages and disadvantages of a dating app that include the most important issues for all customers: safety, prices, usability, and quality of profiles. That is why we processed plenty of Wantmatures reviews and can summarize the following: 
The majority of customers are satisfied with the service offered to them by Wantmatures; however, some of them wish the prices were slightly lower;
Many users stated they managed to find their partners on Wantmatures.com; 
The website usability was rated high by the majority of users. 
Such feedback from recent website members is evidence of quality service and constant striving for improvement. If you are looking for a fast-working dating platform with millions of active users, Wantmatures is for you. 
How expensive is Wantmatures? 
As for the pricing policy on Wantmatures, we can say it's simple and easy to understand. The website offers a few membership options for new members: 
one-day membership for $0.99;
one-week membership for $2.73;
one-month membership for $28.8;
three-month membership for $48.6.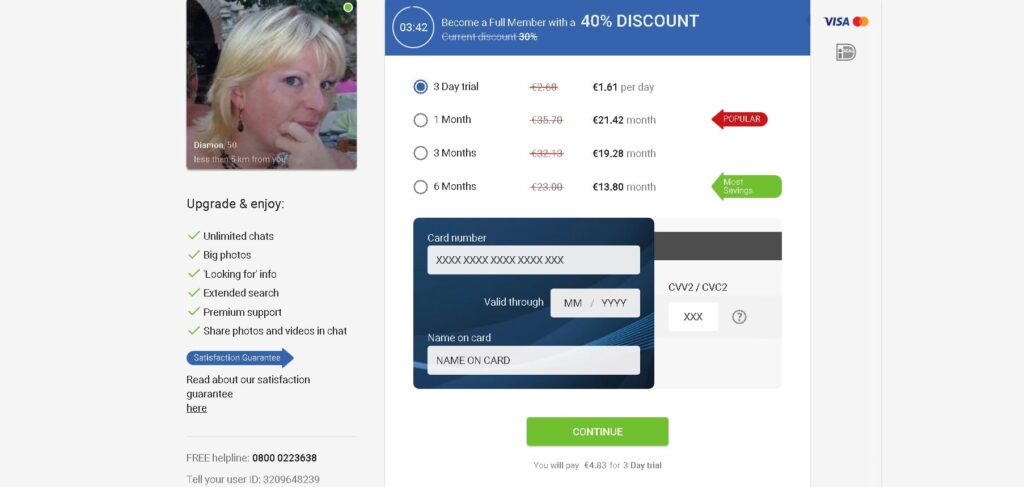 Either package contains the following features:
unlimited chat opportunities;
full-sized pictures;
extended search engine features;
premium customer support;
the ability to save pictures and videos from chats. 
In comparison to a free membership, a prepaid one is much more beneficial: as a free user, you cannot communicate with other users, have limited search filters, and have small chances of becoming popular on the site. 
Besides this, the website offers free trial days for everyone who didn't manage to find their love in three months of dating via Wantmatures. To be eligible for this offer, a user has to be active on Wantmatures.com, fill out the personal information in detail, and add at least two photos to their profiles. The other terms of this offer you can find on the site. 
As you can see, the prices for online dating on Wantmatures are quite reasonable and affordable compared to the competitors' rates. But before you pay for the subscription, consider reading further wantmatures.com reviews to decide on the right duration of membership for you. 
Advantages of Wantmatures: why should you try this site?
At this point, you probably marked a few advantages of Wantmatures.com, but we are listing them below for you to make up your mind regarding joining the dating community on this site: 
Wantmatures.com is easy to use. First of all, the website was designed for middle-aged and older people who may not enjoy using dating apps for youth. Therefore, this website has a simple design and user-friendly interface to make your experience smooth and positive;
Wantmatures has millions of real users. You will not have to worry about the quality of women's profiles on Wantmatures.com: moderators of the app review them quickly to block and remove unnecessary content and suspicious profiles so that you could not interact with them; 
Wantmatures cares about your safety. The website has a few safety features to ensure the privacy of every user. Your personal and financial information is encrypted with safety protocols and safety tips on the website are provided to let you know how to communicate online without risking your finances and data;
Wantmatures provides many features at reasonable rates. Once you pay for your membership, you will get access to all profile pictures on the site, will be able to communicate with women in chat and on cam, send them flirts and messages, like their profiles, and get fast customer support; 
Wantmatures does its best to meet your needs. Finally, the website offers constant customer support online and over the phone so that you could resolve disputes or get answers to your questions on time. 
Conclusion
So far, we can say that Wanmatures.com is one of the best options for people who are looking for serious relationships after 35-40 years old. The website works fast and provides a nice customer experience from the moment of registration until the day you decide to meet your online girlfriend in real life. The website is not overpriced so everyone in the target age group can afford to purchase a premium membership. Finally, you don't have to worry whether Wantmatures is legit: the website has a privacy policy to keep its users safe. If you are looking for a quick and effective dating app full of beautiful women, sign up for a free account on Wantmature.com and start looking around.
FAQ 
What is Wantmatures?
Wantmatures.com is an online dating app for people older than 35 years old who are looking for serious relationships and marriage. The users come from all major English-speaking countries and use the website actively a few times per week. 
How much does Wantmatures cost?
The website has a few prepaid membership plans to choose from. The prices start at $0.99 per day and go up to $48.6 for three months of premium membership. Feel free to choose the longer membership plan since it has a lower day price. 
Is Wantmatures Legit?
No, it's not. Wantmatures is one of the safest dating options for singles, divorced, and widowed people since it has numerous safety features, a privacy policy, and safety rules that you need to follow to stay discreet. 
Is Wantmatures Safe?
Yes, it is. Wantmatures provides safe payment methods and does not collect your financial information. Therefore, you should not worry about your credit card security when you pay for your membership plan on Wantmatures.
Does Wantmatures have a mobile app?
No, it doesn't. Currently, Wantmatures is not developing a mobile app since its users are not technically savvy enough to use it. In spite of the absence of any wantmature dating app review given the absence of an application, Wantmatures users can enjoy dating via the mobile version of the site.
Leave your comment here
Your review has been sent for moderation!
MORE REVIEWS
Growlr Review 2023: Will This App Help You To Find Your Match?
Meeting that special one for dating and sex may not be an easy task in 2023. With all the ongoing COVID-19 restrictions, anxiety around the pandemic, and the inability to travel free, young people tend to stay home more and fail to widen their social circle. At the same time, fear of getting infected should not hold you from trying to find your partner to spend days and nights together. But how to do that safely? In this review, you will find the answer. Growlr com is the app that you need to try if you haven't yet. This is one of the largest gay communities in the world open to everyone who wants to find their bears for relationships. Now, with the app's further development, LGBTQ+ people are also welcome to join.
FreeHookUpAffair Review
Our exhaustive service evaluation showed that FreeHookUpAffair is a fairly average dating service. Yes, the platform offers a haven for singles seeking discreet hookups. But the absence of a standard privacy policy is worrying.  The website is not user-friendly - the mobile version is absolutely unusable. And beyond the landing page, the interface design is completely horrendous.  Besides, while registration is free, users still need to enter credit card credentials before gaining access to the dashboard. In the end, you will have to pay to use ALL the services available at FreeHookUpAffair.com.  Essentially, we have categorized our experience using the site into a set of advantages and disadvantages.
Tendermeets Review 2023: What Should You Know About This Dating Platform?
TenderMeets is a traditional dating website that helps people meet and become friends. The site is also a social network enabling users to develop their acquaintances. This online platform is intended for adult participants around the age of 30, who are searching for serious and long-term relationships. Hence, people looking for erotic adventures and casual flirting are recommended to use other sites.